In the world of design and construction, some projects stand out, not only for their visual impact but also for the incredible challenges they pose. Polzin Epoxy Designs recently took on such a project that showcased their expertise and innovation. They transformed a broken-down wood floor in a 120-year-old historic tavern, using a combination of products that make up the Platinum Flake Plus System. Let's take a closer look at how they achieved this remarkable transformation.
The Challenge: Restoring a Century-Old Beauty
The tavern's wood floor had seen better days, displaying years of wear and tear, with various imperfections and blemishes. The challenge was to revitalize this piece of history while preserving its unique foundation.
The Solution: The Platinum Flake Plus System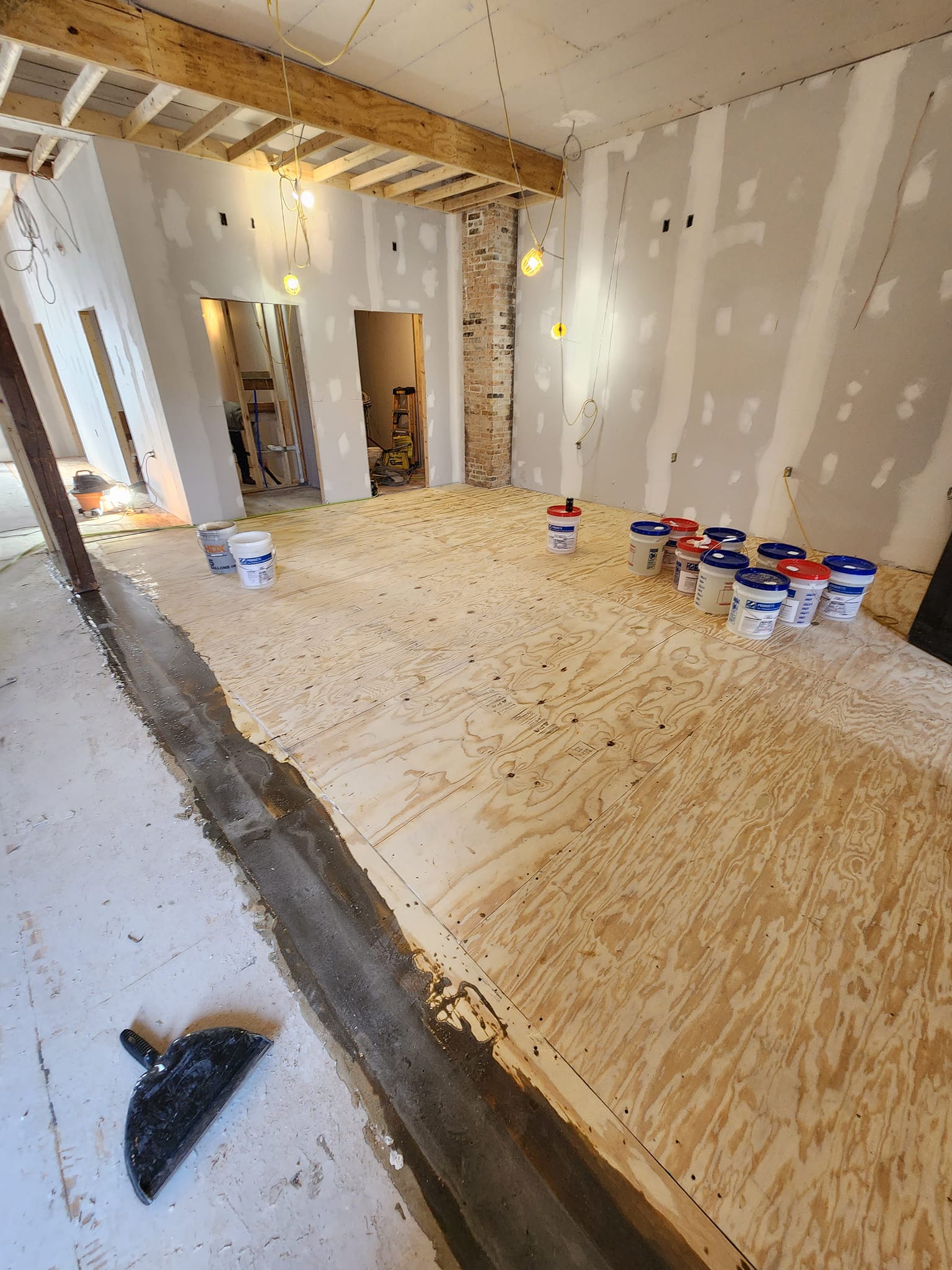 To achieve this feat, Polzin Epoxy Designs turned to the Platinum Flake Plus System, which consists of three key products:
1. HyperFLEX Membrane Coat (Direct-to-Wood)
The first step in the transformation was to apply a HyperFLEX flexible membrane coat directly to the wood. This fast-curing, flexible epoxy played a crucial role in ensuring that the wood substrate was not only protected but also strengthened. Its flexibility and resilience made it an ideal choice for a historic wood floor like this one. With it's 150% elongation rate, it created a strong, impact-resistant foundation, ready to withstand the test of time.
2. HyperBOND Base Coat
Once the HyperFLEX membrane coat had been applied, the next step was to use HyperBOND as the self-priming base coat. This butter smooth 100% solids epoxy is the platinum of base coats with its supreme bonding and water insensitivity properties. It added an extra layer of durability and ensured the wood was ready to receive its stunning makeover.
3. Aspartic 85 Slow Go Top Coat
After flake was broadcasted into the base coat, the transformation was completed with the application of the Aspartic 85 Slow Go top coat. This high-performance topcoat is not only incredibly durable with UV stability and high chemical resistance but extremely user-friendly, offering a roller mark-free finish on any sized project. Aspartic 85 Slow Go's 60+ minutes of working time was needed to achieve a flawless full-broadcast finish on this 120-year-old wood floor.
The Result: A Stunning Transformation
The combination of these three products delivered a remarkable transformation. The historic character of the tavern was preserved while its aesthetics were enhanced, breathing new life into the space.
This project by Polzin Epoxy Designs showcases not only the power of innovative epoxy s
ystems but also the skill and artistry of their installation team. It's a testament to how modern technology can be used to restore and enhance the beauty of aged and cherished spaces.
In the world of concrete coating installation, Polzin Epoxy Designs has once again proven that the possibilities are endless. The next time you're facing a challenging flooring project, consider Floorguard Product's Platinum Flake Plus System, and you might just create your own masterpiece.